With family or friends, the Loir Valley by bike (V47) is accessible to everyone. Perfectly signposted in both directions, this route will delight both beginners and experienced riders. You can travel through the Loir Valley country by following the 320 km route over several days or by loops available throughout the course. Ready to discover the meanders of the Loir? So get on your bike and follow us!
A bucolic route for cycling tourism
The Loir Valley by bike is a real bucolic ride that follows the entire Loir River. This route starts from the source of the Loir in Illiers-Combray in Eure-et-Loir. It was in this charming town that Marcel Proust spent his summers as a child, and from which he was inspired to write his famous novel "Du Côté de Chez Swann". This greenway, dedicated to cycling, continues its way to Angers and its famous castle of the Dukes of Anjou passing by the superb Renaissance castle of Poncé-sur-le-Loir.
A cycling route dotted with activities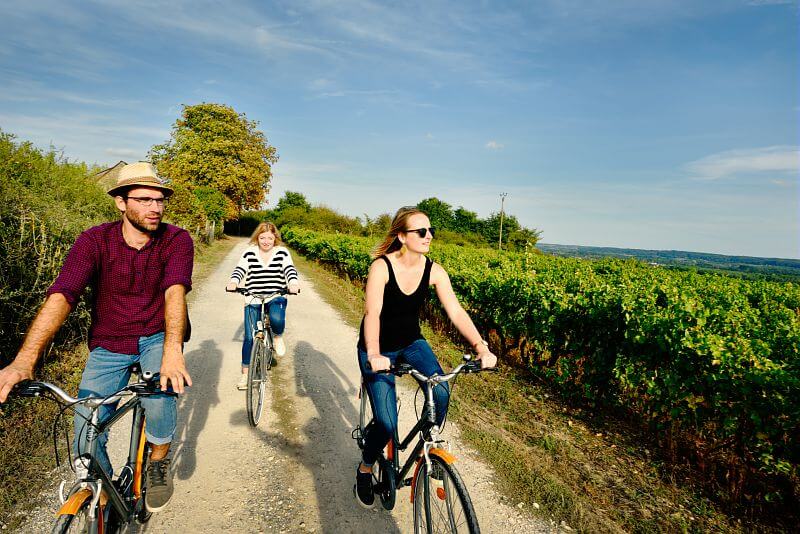 Admire the tufa stone architecture characteristic of the castles of the Loire which is also found in the alleys of the villages of the valley. Wine lovers will also enjoy a good tasting and why not spend the night at a winegrower's before getting back on the handlebars? Also take advantage of the relaxed atmosphere of the unique guinguette on the banks of the Loir in Thorée-les-Pins and get back in the saddle to become a trainer for a day at the Zoo de la Flèche.
With the "Accueil Vélo" label, you are on the right track
The Loir Valley by bike is a paradise for cyclists. Throughout this greenway, you will find many services thanks to the "Accueil Vélo" network. Taste local products such as rillettes and wine after a good morning of cycling. Labeled restaurateurs mark out the circuit to welcome you serenely and with your bike! In the evening, you can sleep in one of the accommodations on your route, such as the La Route d'Or campsite in La Flèche, with the possibility of recharging your electric bikes. And for a serene itinerary, you will also find bike repairers on your way, such as La Boite à Vélo.