Cross the Sarthe by bike following La Vélobuissonnière, a 250 km route that connects Alençon to Saumur via Le Mans. Cross the hilly landscapes of the Alpes Mancelles, walk along the banks of the Sarthe valley, crisscross the country lanes before reaching the Loire Valley vineyards.
A 250 km nature getaway in the heart of Sarthe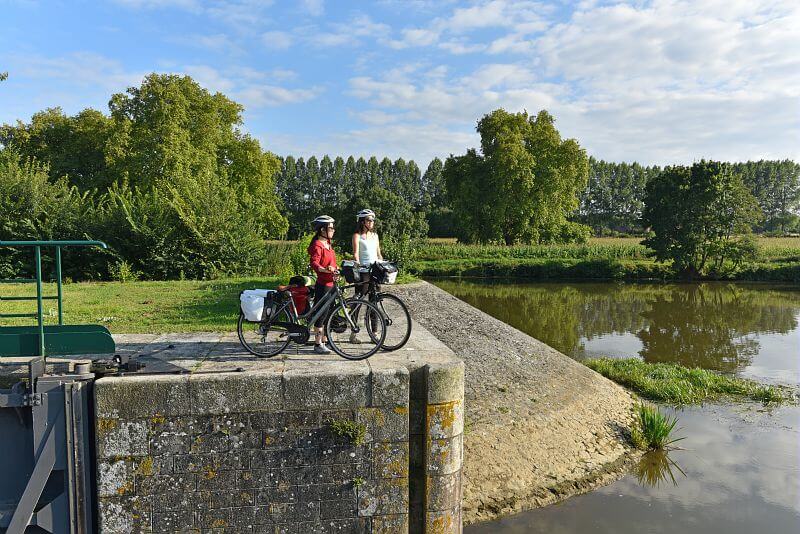 From Normandy to the Châteaux of the Loire, La Vélobuissonnière crosses the Sarthe on a 250 km route between greenways and small quiet roads. Linked to the major cycle routes of the West, it promises the discovery of a remarkable architectural and landscape heritage. Follow the signposts of the V44 and let yourself be guided!
Leaving from Alençon, the route crosses the small towns of character in the Alpes Mancelles  : Saint-Cénéri-le-Gérei, Saint-Léonard-des-Bois and Fresnay-sur-Sarthe. In Le Mans, the Cité Plantagenêt will seduce you with the richness of its architecture with its many half-timbered houses.
After criss-crossing the Sarthe valley as far as Malicorne-sur-Sarthe, renowned for its openwork earthenware, we peacefully reach the Loir valley.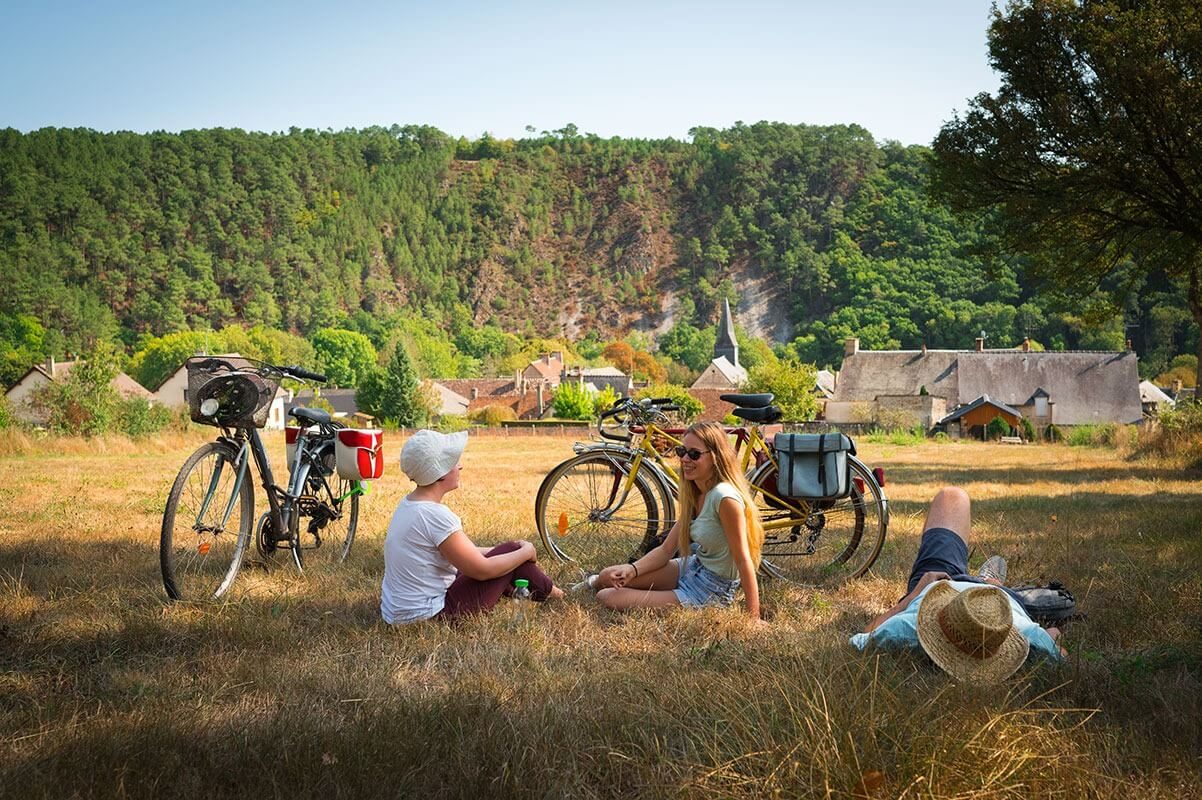 A step is necessary
in the "bike-friendly" town of La Flèche and its famous zoo, before continuing to Baugé-en-Anjou and its amazing apothecary. 
At the bend of the paths of the Loire Valley dotted with villages with "twisted" steeples, we cross the vineyard dominated by the castle of Saumur. You have arrived in the Loire Valley, listed as a UNESCO World Heritage Site.
A great cycle route at the gates of the Paris Basin
From Paris, the TGV connects the city of Le Mans in just 1 hour. The capital of Sarthe remains an easy starting point for exploring all or part of La Vélobuissonnière. 
Where to sleep on The Vélobuissonnière?
Throughout the 250 km of the cycling route, you will find accommodation adapted to your journey by selecting establishments with the Accueil Vélo label. The professionals welcome you with your equipment and facilitate your cycling holiday.
Join the other western cycle routes
La Vélobuissonnière joins several cycle routes of national or local dimension. It is connected to the major cycle routes of the West: 
La Véloscénie (V40) in Alençon.
The Loir Valley by bike (V47) to La Flèche.
EuroVelo 6 – La Loire à Vélo and Vélo Francette (V43) in Saumur.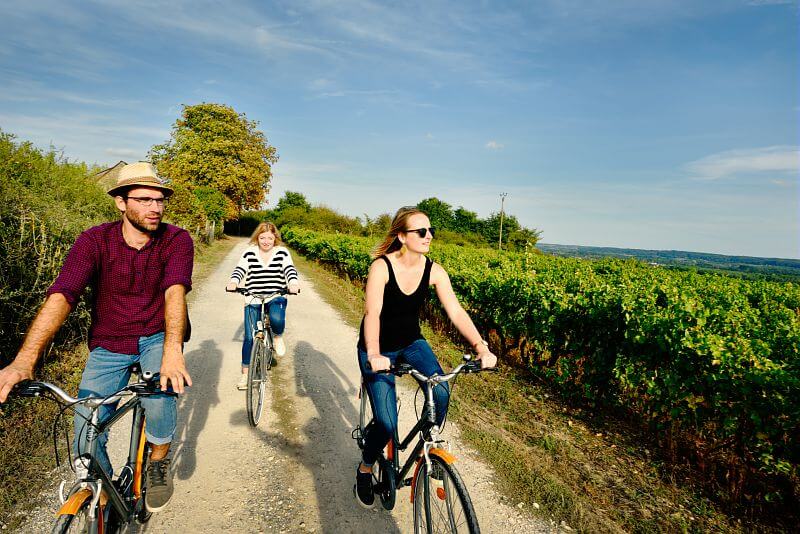 The essential experiences on La Vélobuissonnière
Along the route, various stops allow you to discover an exceptional historical and cultural heritage by crossing the Sarthe from Normandy to the Loire. Explore the many nuggets that await you along La Vélobuissonnière:
The life-size image of the relief of the Alpes Mancelles and the banks of the Loire at sunset.
Epicurean tastings at the foot of the half-timbered houses of the Cité Plantagenêt in Le Mans, on the esplanade of the Château de Saumur or in the squares of the remarkable towns and villages crossed.
Small details of crafts or pharmacopoeia with Alençon point lace listed as intangible heritage by UNESCO, the faience workshops of Malicorne or the apothecary of Baugé. 
Laughter and discoveries at will! Canoeing on the Sarthe, the Loir or the Loire, tree climbing, electric surfing (e-foil), wakeboarding…
The youngest will be delighted to visit an animal park such as La Flèche Zoo or Spaycific' Zoo